Armstrong Prime Harvest Hickory Solid Hardwood
Overview
Hickory 3/4 x 5" x Random Solid Wide Plank
Product:
Prime Harvest Hickory Sold SKU # APH5401
Color:
Country Natural
Finish:
Armstrong Lifetime Finish
Gloss Level:
Medium Gloss
Edge Type:
Micro Edge / Micro Ends
Warranty:
Residential: 50 years / 10 Year Commercial
Installation:
Nail—On/Above Ground Level
Contact Us
Board-to-Board Color Variation
Wood is a natural material that features changes in color and tone. The board-to-board color variation is more pronounced in some species, less in others. If you like the look of contrasting light and dark tones, select a species that offers most color variation. If you prefer consistent color from board to board, choose the least color variation.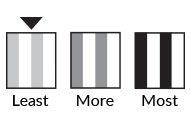 Hardness Scale
The density/hardness of the wood species and its ability to withstand foot traffic, children and pets will impact its wear performance, and will vary from species to species. Strong, resilient Oak is used as the industry benchmark. The hardness scale shown to the left shows the relative hardness of this wood species.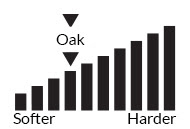 Narrow Planks
Narrow 2-1/4" and 3-1/4" planks (known as strip flooring) create long lines in a room and convey a more traditional look and feel.
Wide Planks
Wide planks (5") are one of the most fashionable looks in home interiors today. The wide-width plank creates a sense of openness and space for a richer, more sophisticated style that elevates any room decor.

---
Don't see the product you're looking for? Just call or email us with: product name, manufacturer, style, SKU#, color—sq.ft. needed. We'll get back to you the same day with a price!
x